Links
This page will allow you to access links to other sites that are of interest to 7mm modellers, many of the sites are overseas, but with the expected growth in the scale, lets hope that we will see a poliferation of Aussie web sites popping up all over the place.
I hope you enjoy your stay and come back often , and if you model in another scale, remember

"You'll never never know if you don't come over to "O"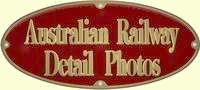 ARDP has been around for a few years now, and starting from a couple of sets of detail photos back then, to now boasting over 170 photo sets from a catchpoint indicator, up to various large timber and brick bridges, and anything in between. The aim of ARDP is to become the largest photo resource site in the country, and to share as much information as possible with modellers of all scales and styles. CD's are available for purchase on the site of archived photo sets, with ARDP Volume 3 currently in production and available later in 2004.
Keiran Ryan Models is new to the NSWGR 7mm scene. At present he has a small but growing range of etched brass components, which can be catagorised as genegic. Components for track and point work will also soon be available. At present I am seeking expressions of interest in a project to produce an Etched Brass NSW Z20 class Steam Locomotive (the converted Z19 Class) It is intended to produce the kit for under $1000.00 and include a new initative, by producing a CD with photos, plans, detailed photographic step by step construction process, and possibly a small video clip. The kit will also include a 1/2 day soldering course to make the process a much more interactive experience, rather than just a kit to place on the market.
The Railcar is an Australian based model railroad mail order business dealing primarily with US and UK Narrow Gauge and Industrial prototype equipment. We specialize in Craftsman type kits and Scratchbuilding products that are often difficult to find in Australia. This web site lists our in-stock items (give or take a few depending on sales). The site is expanding and we are adding to it all the time so please check back regularly for new listings. If you don't see what you are looking for, contact us, we may have it anyway, or on the way, and are more than happy to order for you (small quantities are no problem).

BRITISH - AUSTRALIAN - AMERICAN - NEW ZEALAND 4mm Scale - 7mm Scale - 0 Gauge - Narrow Gauge
Brunel Models supply a range of products and specialist servcies for modelllers including a large range of products for railway modellers of all protypes.
Ian Lindsay Models offers a great range of products in both 7mm and 1/4" with a great Victorian Puffing Billy range of products.

Veteran Models manufactures O Gauge (1/48th) Victorian prototype trains in Australia
THE British Railway Modelling Directory on the Internet. Bringing you the ultimate in Online Information for the British Railway Modeller. With listings for Model Shops, Suppliers, Clubs, Exhibitions, Railway Attractions in the UK, and much more, this is your ONE STOP SOURCE for everything in MODEL RAILWAYS.
Gauge 0 Guild - an organisation, run by, and for, members to encourage and assist the development of 0 Gauge railway modelling.
Components for locos, carriages, and goods rolling stock in 7mm (British)
This outlet is located at Labrador in Queensland, and while not concentrating on 7mm, has a wide variety of products that the 7mm modeller could take advantage of, worth a look to see if they have anything that may be of interest to you.
Lambing Flat, while not being a 7mm site, is a great site for information about NSWGR generally. James McInerney, is a HO and large scale modeller, who has an abundance of information that will benefit any modeller no matter which scale that may wish to model.